3-7-2023
PRESS RELEASE: CZ Law Wins $950K Settlement for Trans Latina Woman in City of El Monte Police Brutality & Civil Rights Case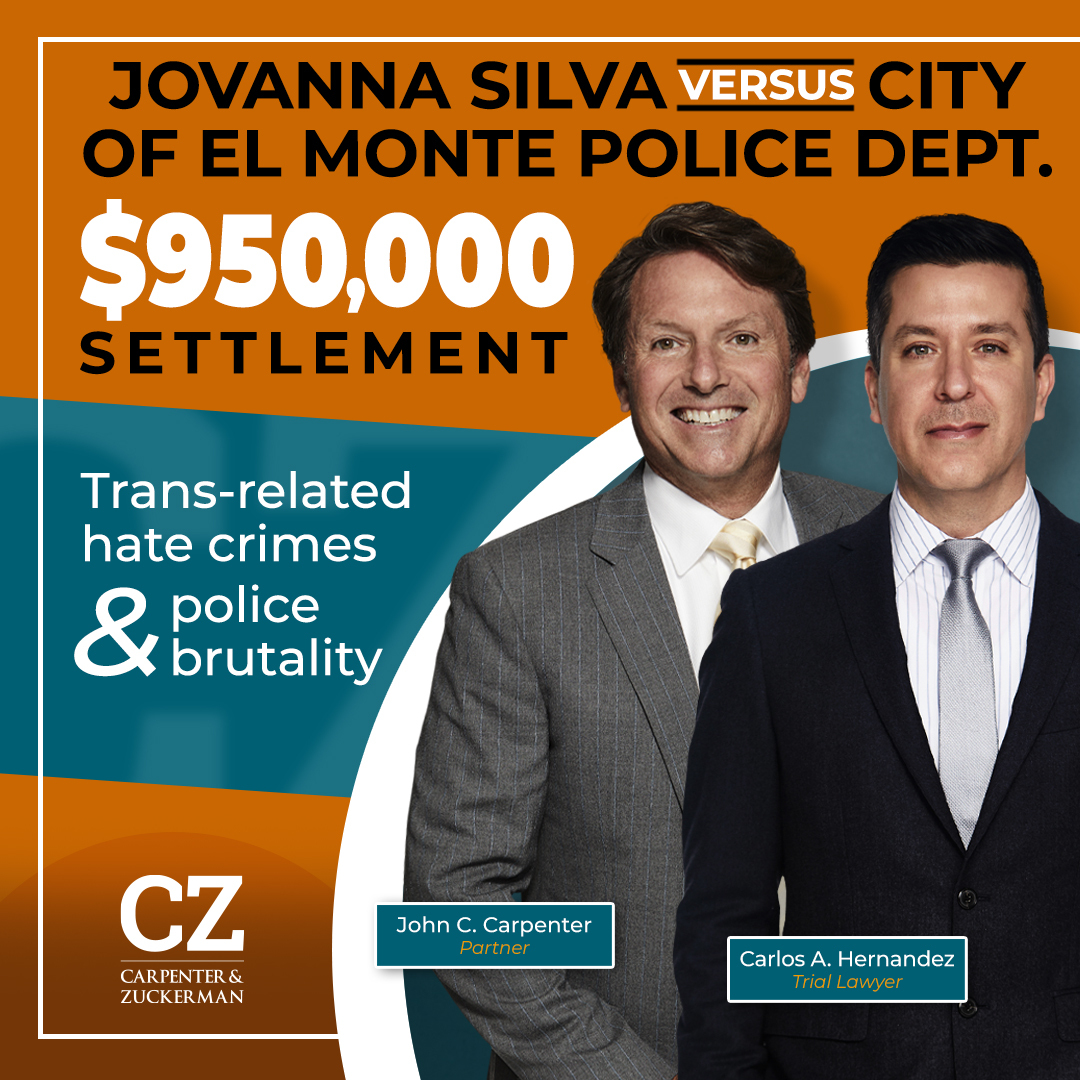 LOS ANGELES, Mar. 7, 2023 /PRNewswire/ – The law firm of Carpenter & Zuckerman has secured a landmark $950,000 settlement and consent decree in a lawsuit against the City of El Monte after undercover police unlawfully stormed a 60-year-old transgender Latina woman's home, brutally beating and arresting her, and, days later, unlawfully ordering her eviction without affording her due process.
The lawsuit alleged that plaintiff Jovanna Silva was at home watching television on January 10, 2019 when the El Monte Police Department's Special Investigations Team arrived at her door and conducted an undercover sting operation. During the sting operation, 5 armed undercover agents stormed into Ms. Silva's home without announcing themselves in Spanish, a language detectives knew she spoke, and proceeded to use excessive physical aggression to arrest her.
A victim of trans hate crimes in the past, the complaint stated that Ms. Silva was unaware that the men who entered her home were law enforcement officers, and believed she was the target of a hate crime during the course of the police effectuating her arrest. Ms. Silva alleged that the agents failed to identify themselves as law enforcement or give orders in Spanish prior to using force against her, despite their knowledge that she was a monolingual Spanish speaker.
The complaint alleged that the El Monte Police Department sent a letter to Ms. SIlva's landlord days after her arrest, ordering her eviction and threatening punitive action against the landlord for non-compliance. Shortly thereafter, Ms. Silva was evicted from her home and rendered homeless without being afforded any due process rights whatsoever.  
The settlement with the City includes a groundbreaking resolution that will be adopted at the March 7, 2023  city council meeting, which provides that the City and its police department will no longer use their police powers to have people evicted from their homes as part of any law enforcement effort without a court order, and without affording such persons fair and due process of law.  Specifically, the resolution provides that the police department will no longer issue correspondence to landlords or property owners telling them to evict tenants or occupants that may be the subject of law enforcement actions, without first affording persons due process and without making it clear that the tenant/occupant is entitled to due process before any adverse action should be considered.
Carpenter & Zuckerman Trial Lawyer Carlos Hernandez, together with Founding Partner John Carpenter and their legal team secured the momentous settlement and consent decree from the City on Ms. Silva's behalf.
Praising Mr. Hernandez's achievements in the case, Mr. Carpenter said: "Carlos, you truly are Jovanna's superhero. She was homeless, staying in a trailer with a friend, and facing certain conviction and deportation.  All that has changed thanks to you.  I just can't say enough about how proud I am of this result." 
More information about the case can be found in the filed complaint.
About Carpenter & Zuckerman
Founded in 1995, Carpenter & Zuckerman is one of California's most prestigious personal injury law firms. CZ Law's experienced team of trial attorneys channel their legal expertise and compassion into a razor-sharp determination to represent victims of personal injury. This vision of standing up to powerful insurance companies and corporations on behalf of the individual is the central driving force behind the firm's success, both inside and outside of the courtroom. Contact CZ Law today if you are an injury victim in need of justice.
To find out more, call (310) 273-1230 or visit https://cz.law/

Instagram: @cz.law
⁠Twitter: @cz__law
⁠Facebook: @carpenterzuckerman

Source: https://www.cz.law/news/press-release-cz-law-wins-dollar950k-settlement-for-trans-latina-woman-in-city-of-el-monte-police-brutality-and-civil-rights-case
⁠Related Links: https://cz.law/
Ready to Discuss Your Case?
Schedule a Free Consultation with Our Team.
We're available 24/7 to assist you with your personal injury matter.
Remember, you don't pay any fees unless we successfully resolve your case!