11-21-2022
New $1.8B Settlement for SoCalGas Leak Victims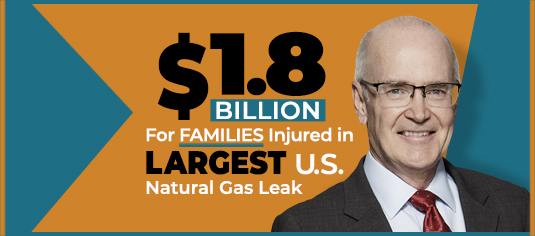 Brian Toppila, Trial Lawyer of Counsel for Carpenter & Zuckerman, along with plaintiffs' attorneys representing over 35,000 claimants, recently secured a $1.8 billion settlement for victims injured in the Aliso Canyon Natural Gas Storage Facility disaster — the largest natural gas leak in U.S. history.
After a 6-year battle with Southern California Gas Company (SoCalGas) and its parent company, Sempra Energy (Sempra), Mr. Toppila and other plaintiffs' counsel prevailed in delivering justice to families injured and displaced by the 2015 catastrophe in the Porter Ranch community of northwest Los Angeles.
Mr. Toppila, along with co-counsel from the Law Office of Wayne McClean and attorney Michael Rapkin of Rapkin & Associates, represented 450 claimants in the Aliso Canyon natural gas blowout case. According to Mr. Toppila, the $1.8 billion settlement fund will be divided among the more than 35,000 total claimants following a protocol developed by neutral, independent allocators and judges.
In a recent statement reported by Los Angeles Times, Plaintiffs' Lead Trial Counsel Brian Panish remarked on the settlement, "Our goal has always been obtaining justice for the men, women, and children who were failed by SoCalGas throughout every turn of this catastrophe."
The Aliso Canyon Natural Gas Storage Facility Blowout
On October 23, 2015, SoCalGas employees discovered natural gas leaking from a gas storage well at Aliso Canyon Natural Gas Storage Facility. The leak continued unabated for 118 days, spewing in excess of 100,000 tons of methane, methyl mercaptan, and other aromatic hydrocarbons into the air at the facility and the surrounding communities.
The sulfurous-smelling methane and toxic stew of other gasses impacted the neighboring community of Porter Ranch, sickening residents, forcing the closure of schools and businesses, and necessitating the relocation of approximately eight thousand families from their homes. 
Damages Incurred by Victims
As a result of the months-long disaster, victims incurred a range of damages, including personal injury and property damage. Specifically, victims suffered:
Displacement from their homes near the disaster site

School and business shutdowns

Personal injuries

Nausea

Headaches

Bloody noses

Other health conditions
SoCalGas & Sempra's History of Misconduct in the Case
Represented by large, well-funded corporate law firms, Sempra and SoCalGas have vehemently denied wrongdoing in the case, and have fought hard to deny justice to the disaster victims.
From their initial failure to promptly report the massive gas leak to state authorities, to their withholding of information during litigation, the responsible parties demonstrated a track record of misconduct throughout the case. As a result, Sempra, SoCalGas, and their counsel were sanctioned over $5.7 million by the Court.
Numerous examples of  poor conduct were cited in the Court's decision to impose sanctions, including: withholding information during the discovery process, asserting repeated and unmerited objections, and violating court orders. Referring to the defendants' withholding of documents during trial discovery, the Court characterized the conduct as "willful, intentional, and in bad faith."
Previous Settlements & Sanctions in the Gas Leak Case
The new $1.8 billion compensation fund for victims of the Aliso Canyon natural gas leak disaster is not the first settlement payout for Sempra and SoCalGas in the case. According to an NPR article on the disaster, the responsible parties previously agreed to pay the following:
$120 million court settlement with the state attorney general

$25 million for a study of the leak's short-term & long-term health effects

$8.5 million to settle air quality violations with regulators

$4 million settlement with Los Angeles County prosecutors 

After a Los Angeles Superior Court conviction for failure to timely report the leak
Based on the terms of the new $1.8 billion settlement, SoCalGas and Sempra deny any wrongdoing in connection with the gas leak ordeal. However, Plaintiffs' Lead Trial Counsel Brian Panish said:
"This settlement, and the numerous discovery sanctions imposed by the court, hold Sempra and SoCalGas accountable for the Aliso Canyon blowout and their repeated misconduct throughout this litigation."
When Disaster Strikes: What To Do If You Are Injured
In the event of a car accident or other one-time incident, injury victims may have previous experiences to guide them in handling the situation. However, in the case of a major or ongoing disaster such as the Aliso Canyon natural gas blowout, victims may be unsure what steps to take to protect their families and recover compensation for their damages. 
If you believe you have incurred damages in a disaster caused by someone else's negligence, whether those damages affected your property or physical well-being, follow these steps:
Photograph damages including your injuries and property damage

Photograph the disaster scene from public rights of way, safety permitting

Digitally preserve potential evidence including documents & communications with the responsible party

Seek a medical evaluation to document your injuries

Obtain repair estimates for damages to your personal property

Document your expenses resulting from the incident

Keep a timeline of significant events with supporting documentation

Gather contact information from witnesses and other potential victims

Don't discuss details with insurance companies, media, or social media, until you

Contact an experienced personal injury lawyer as soon as possible
Are You A Victim of Corporate Negligence?
If you believe you are the victim of corporate negligence, whether it resulted in minor damages, a catastrophic injury, or a large-scale disaster impacting entire communities, you need an accomplished personal injury lawyer in your corner. Trial Lawyer of Counsel Brian Topilla at CZ Law is experienced in battling powerful corporations and well-funded insurance companies. Whatever the circumstance and regardless of the extent of your injuries, if you suffered damages as the result of another's negligence, you deserve justice!
The law firm of Carpenter & Zuckerman was founded on the principle that justice for the individual far outweighs the importance of corporate profits. We maintain offices in Beverly Hills, Los Angeles, Orange County, Bakersfield, San Diego, and Las Vegas. To date, our formidable personal injury law attorneys have won more than $2 billion in verdicts and settlements for the firm's injured clients.
Carpenter & Zuckerman is truly proud of Mr. Toppila's accomplishments in the Aliso Canyon gas leak blowout case. On behalf of the entire firm, we commend Mr. Toppila and his co-counsel on a truly remarkable job advocating for the disaster victims.
If you have suffered damages as a result of corporate negligence, you may be eligible for compensation. Contact Mr. Toppila at CZ Law today at (877) 870-2153, or fill out our contact form for a FREE consultation. 
Ready to Discuss Your Case?
Schedule a Free Consultation with Our Team.
We're available 24/7 to assist you with your personal injury matter.
Remember, you don't pay any fees unless we successfully resolve your case!