1-3-2023
Ken Block's Death Reveals Cold Reality of Winter Sports Danger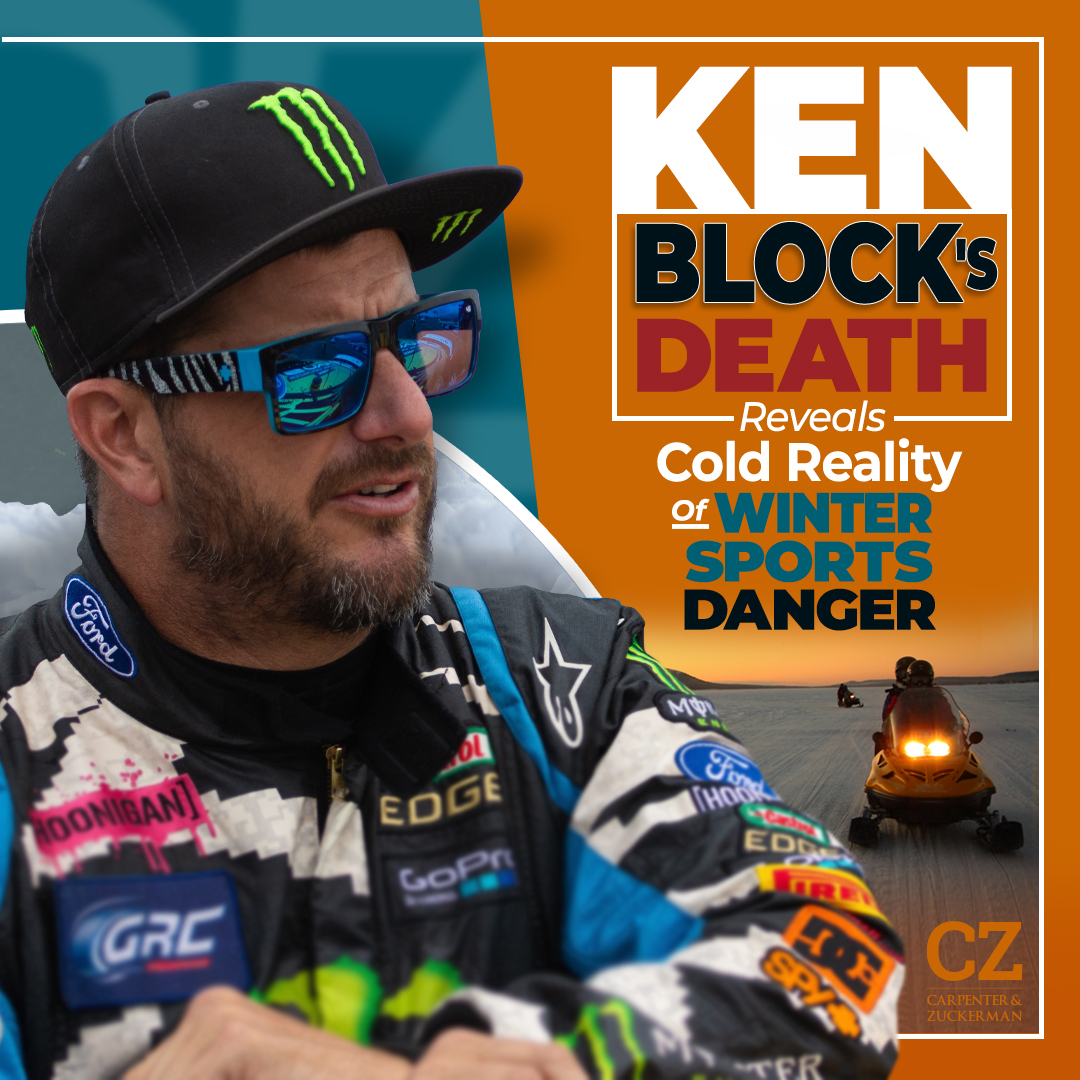 News of racing icon Ken Block's untimely death in a snowmobile accident shocked fans worldwide this week. The action sports pioneer was just 55-years-old when he died near his Utah home after climbing a steep embankment in his snowmobile, which upended and fell back on him. Ken was pronounced dead at the scene and is survived by his wife and three children.
Ken Block was best known as a trailblazing rally car driver and was the co-founder of Hoonigan Racing and DC Shoes. Famous for his Youtube videos, Ken's most recent video was released just three weeks ago and serves as a haunting reminder of the inherent dangers of snowmobiling, and winter sports in general. From a quick glance at any of Ken's YouTube videos, his elite racing skills and ability to handle motorized vehicles are evident. If a professional such as Ken could die in a tragic snowmobile accident, that naturally leads most of us to wonder how we can protect ourselves while also living life and enjoying winter sports. 
CZ Law's personal injury lawyers are adept at managing winter sports-related accidents of all kinds – whether due to a collision, equipment malfunction, negligence of a resort property owner, or any other circumstance. Our knowledgeable attorneys know how to navigate your case to ensure you receive fair compensation for your damages.
Read on to learn more about the most common winter sporting accidents and what steps you can take to protect yourself and your loved ones this winter. If you have been involved in a winter sporting accident or accident of any kind, contact the skilled personal injury lawyers at Carpenter & Zuckerman today. We are here to help!
What Are the Riskiest Winter Sports & Most Common Injuries?
The Most Dangerous Winter Sports
According to the Consumer Product Safety Commission (CPSC), 110,900 people were treated in emergency rooms for winter activity-related injuries in 2021. CPSC's National Electronic Injury Surveillance System (NEISS) data revealed the injuries were caused by "snow skiing, ice hockey, using toboggans, sleds and snow discs, ice skating and using snowmobiles."
From snowmobile collisions to ski accidents and a host of other winter sporting activities, the potential for serious injury or death exists. According to insurance statistics, the most dangerous winter sport activities, ranked in order from the greatest to least risk, are: 
Skiing

Snowboarding

Ice Skating

Sledding

Ice Hockey

Snowmobiling

Snow Tubing

Tobogganing
Most Common Winter Sport Injuries
Most winter sports involve speeding along snow or ice-covered surfaces, often strapped to slick equipment designed to increase acceleration, whether motorized or not. What could possibly go wrong? A lot, it turns out. In fact, winter sports are associated with a host of injuries, including fatality. Bodily injuries associated with winter sports activities, listed in order of most prevalent to least, include:
Head injuries - such as traumatic brain injuries (TBI)

Shoulder injuries - ranging from dislocations to torn rotator cuffs

Wrist injuries - including sprains, strains, and fractures

Knee injuries - such as meniscus tears and torn anterior cruciate ligaments (ACL)

Lacerations - often from ice skate blades, ice hockey sticks, or the natural environment
Winter Sport Safety Tips & What to Do If You're Injured
Most of us understand there is a level of risk involved in engaging in any sport, and winter sports are no exception. Fortunately, although accidents do occur, we can mitigate the risk of death or winter-related injuries by proactively following these preventive measures:
Safety Tips for Winter Sports Activities
Stay on the trails: Do not venture outside of designated recreation areas. Avalanche danger increases outside the boundaries of regularly groomed slopes, and ski patrol may not be able to reach you if you need help.

Properly maintain your equipment: Make sure a resort employee performs a safety inspection of your rental equipment. If you brought your own equipment, ensure that it is in optimal working order before you hit the lifts.

Wear appropriate safety gear: Ensure you don a helmet, goggles, gloves, and any other safety gear necessary for your particular sport of choice.\

Know your limits: Challenge yourself, but don't attempt an activity that far exceeds your skill level without proper training. Take lessons when necessary and use extra caution at the end of the day when you are fatigued.

Educate yourself on ice safety: Ice skating or other activities on natural ice can have deadly consequences. There is no such thing as 100% safety when recreating on ice. The National Weather Service recommends educating yourself on ice safety.

Stay hydrated & pack nutritious snacks: Winter sports activities can be an exhilarating way to stay in shape, but your body will burn calories rapidly. Make sure to stay hydrated and carry protein-packed energy bars or trail mix and refuel as needed.

Carry a GPS-enabled phone or tracking device: Use these devices to communicate with others in your party, and to enable authorities to locate you in an emergency.

Use the buddy system: Always have at least one other person with you, or someone who knows your location when recreating outdoors in wintertime. Never engage in a winter sports activity alone.

Do not recreate under the influence: Wait until you're off the slopes for the day before you indulge. Don't endanger yourself or others by hitting the slopes under the influence of drugs or alcohol.
Even professional athletes and experienced outdoors adventurers can be injured in a winter sporting accident, as the recent tragic death of Ken Block reminded us all. If you are injured while enjoying a winter sporting activity, try to remain calm and follow these important guidelines below:
What to Do After a Winter Sports Accident 
Call 911 if anyone is injured & alert ski patrol, if applicable

Alert others of the accident: position someone on the slope above to prevent collisions

Wait for emergency help to arrive; do not attempt to move an injured person

Wait for emergency help to remove victim's skis/snowboard, to prevent further injury

Gather documentation such as photos of injuries & damages, only as safety permits

Do not admit fault or say too much at the scene of the accident

File an incident report and request a copy, if the accident occurs at a ski resort

Seek a medical evaluation as soon as possible, even if your injuries seem minor

Contact an experienced personal injury lawyer promptly after the accident
Call CZ Law If You've Been Injured in a Winter Sports Accident
While it might sound as if we are discouraging fun in any form, that is definitely not the case! At CZ Law, we don't endorse Ken's famous mantra of: "Go Fast, Risk Every Thang!"  However, you might be surprised to learn that many of the attorneys and staff at Carpenter & Zuckerman are motorsport enthusiasts. Engaging in sporting activities is one of the joys of life. Given the nature of our personal injury law practice, at CZ Law, we see too many catastrophic injuries from sporting activities of all kinds, to stand by idly. Instead, we aim to leverage our experience to help educate our clients and community with the goal of reducing injury and suffering. 
Our firm's driving focus is to ensure you receive the maximum compensation possible in your case, so you have the resources you need to heal and move on with your life. Our team of accomplished lawyers can handle the insurance claims process on your behalf.  We are skilled at dealing with insurance companies who notoriously try to shortchange accident victims, in favor of lining their own pockets.
CZ Law has been helping winter accident victims recover compensation for their damages for the past 27 years. We have a proven track record of obtaining excellent results for our clients, with more than $2 billion in verdicts and settlements recovered to date. We maintain offices in Beverly Hills, Los Angeles, Garden Grove, San Diego, and Bakersfield, as well as Seattle, Washington.
When it comes to winter sports, at CZ Law, we say: "Game on! Play it safe."
If your winter sporting activity goes south, don't be left out in the cold! CZ Law stands ready to help you win the compensation you deserve. Call CZ Law  today at (310) 273-1230, or fill out our for a FREE consultation.
Ready to Discuss Your Case?
Schedule a Free Consultation with Our Team.
We're available 24/7 to assist you with your personal injury matter.
Remember, you don't pay any fees unless we successfully resolve your case!