2-14-2023
When Tech Kills: Who Is Liable for Self-Driving Car Crashes?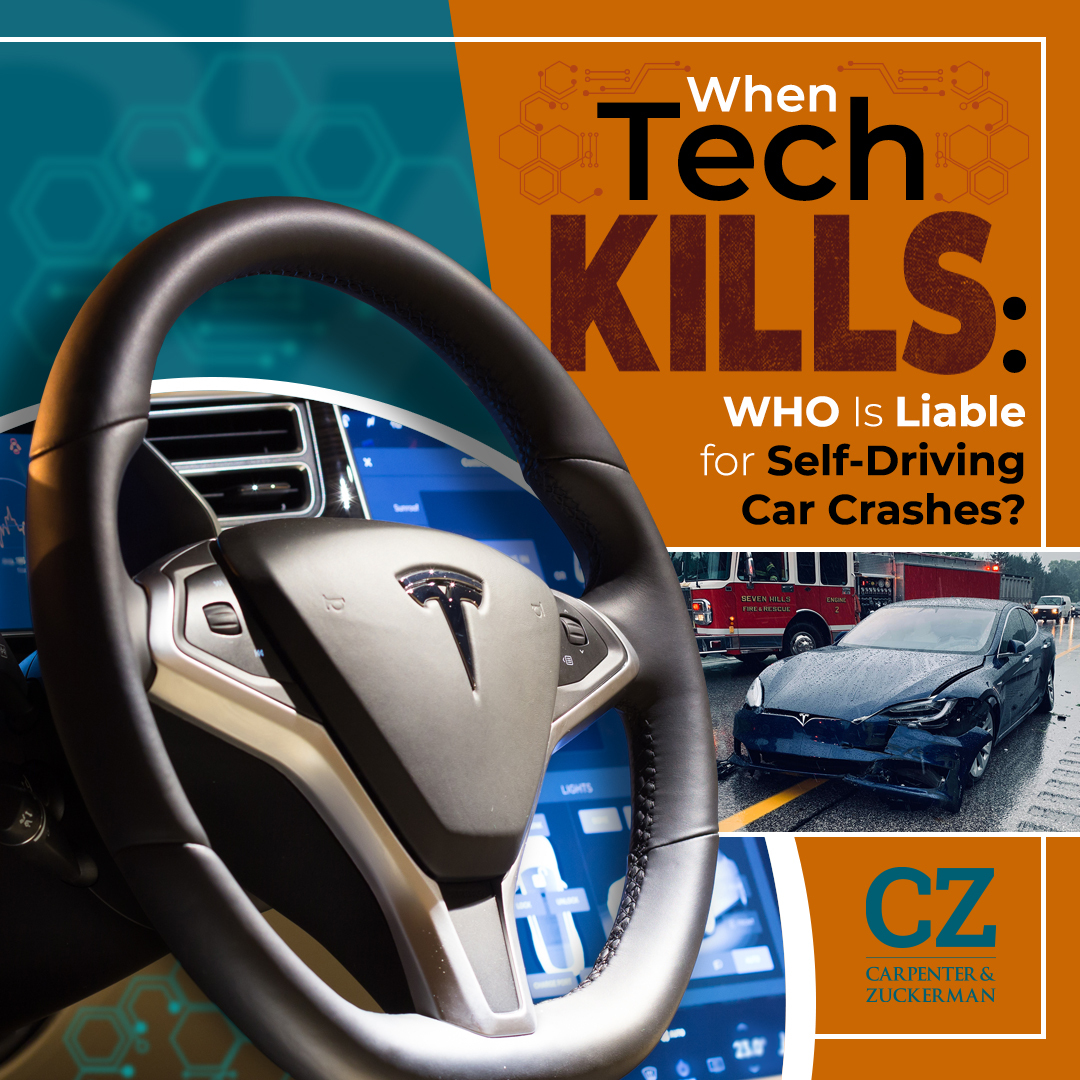 The idea of a utopian society, complete with self-driving vehicles seamlessly navigating the roadways (or skyways?) and transporting people anywhere they desire to go has, up until recently, been a futuristic science fiction plot line. However, with modern-day advances in technology, including Tesla's Autopilot and Full Self Driving features, along with Space X's rocket boosters that safely land back on earth, scenes like the bustling, air traffic-filled city of Coruscant in Star Wars may be in our near future, rather than a galaxy far, far away! 
Throughout human history, valuable advances in technology have come a host of unforeseen circumstances, including technological glitches and failures. While software glitches on a laptop computer can be frustrating and inconvenient, technological failures in a self-driving automobile can have much more serious, and potentially deadly consequences. Case in point: Tesla's Autopilot and Full Self-Driving features have been implicated in a number of injury accidents since they debuted.
According to an ABC News article, "NHTSA [the National Highway Traffic Safety Administration] has sent investigators to 35 Tesla crashes in which automated systems are suspected of being used. Nineteen people have died in those crashes, including two motorcyclists." The driver of a Model-S Tesla that caused a multi-vehicle collision on San Francisco's Bay Bridge on Thanksgiving Day in 2021 claimed that the vehicle's Full Self-Driving mode malfunctioned and caused the accident, as reported by Reuters.
The personal injury law firm of Carpenter and Zuckerman has been fighting on behalf of car accident injury victims for nearly three decades. We understand the devastating impact a car accident can have in the lives of the victim, as well as their loved ones. At CZ Law, we are dedicated to the fierce representation of injured crash victims. No matter the influence, power, or wealth of the at-fault party, CZ Law will go head-on with any adversary to ensure our clients receive the compensation they deserve for their injuries. If you have been injured as a result of a self-driving car, automotive technology, or any accident, contact CZ Law today to learn how we can fight for you!
What Are Driver Assistance Technologies & Are They Helpful?
Collectively, NHTSA refers to the various forms of  technology designed to aid drivers as Driver-Assistance Technologies. They are also referred to as Advanced Driver-Assistance Systems (ADAS). As with most new technologies, they were developed with good intention – in an effort to reduce the high number of annual traffic fatalities in the United States, which topped more than 38,824 deaths in 2020. 
Tesla refers to its Autopilot system as a "driving automation system designed to support and assist the driver in performing the driving task." NHTSA categorizes driver-assistance technologies into several categories, including:
Collision Warnings: These technologies feature a visual and/or audio signal warning of potential collisions. They Include forward collision warnings, lane departure warnings, rear cross-traffic warnings, and blind spot warnings.

Collision Interventions: These technologies automatically apply the brakes or provide steering assistance if they detect a potential collision. Example technologies Include automatic emergency braking (both dynamic brake support and crash-imminent braking), pedestrian automatic emergency braking, rear automatic braking, and blind spot intervention.

Driving Control Assistance: These technologies provide steering or automatic speed adjustments to prevent potential collisions.

Other: Other technological systems designed to aid drivers include automatic high beams, backup cameras, and automatic crash notifications.
Tesla CEO Elon Musk has been quoted in the media making contradictory statements regarding the extent of the Autopilot and Full Self-Driving modes on the company's vehicles. For example, Wired.com reported the enigmatic leader announcing during an October 2016 press conference that all new Teslas would be fully capable of driving themselves; while ABC News quoted Musk condeding, "We're not saying it's quite ready to have no one behind the wheel," in October of 2021.
According to Musk, the risk of the technologies is far overshadowed by the potential lives saved. In characteristic blunt fashion, Musk warned reporters in an October 2016 conference call, "If, in writing some article that's negative, you effectively dissuade people from using an autonomous vehicle, you're killing people." The truth, of course, lies somewhere in the middle. Driver assistance technologies have the potential to save lives, but they must also be improved to prevent needless injuries and death.
Government Investigations Into Autopilot Car Crashes
The National Highway Traffic Safety Administration's (NHTSA) Office of Defects Investigation (ODI) launched a preliminary evaluation into Tesla's autopilot system after "an accumulation of crashes in which Tesla vehicles, operating with Autopilot engaged, struck stationary in-road or roadside first responder vehicles tending to pre-existing collision scenes." According to the evaluation document, at the time the investigation was initially opened on August 13, 2021, Teslas had reportedly been involved in 14 crashes or fires, resulting in 15 injuries and one fatality. The investigation included a review of nearly 191 additional Tesla collision cases involving crashes not limited to first-responder scenes. All of the crashes evaluated involved a Tesla vehicle operating with one of its Autopilot technologies, including:
Autopilot Mod

Full Self-Driving Mode

Traffic-Aware Cruise Control

Autosteer

Navigate on Autopilot

Auto Lane Change
Most recently, the Department of Justice (DOJ) subpoenaed Tesla, requesting documents relating to the auto maker's Autopilot and Full Self Driving features, as reported by ABC News on January 31, 2023. The DOJ reportedly opened a criminal investigation into Tesla, to determine whether the company's claims regarding their driver assistance technologies have led to a false sense of security among consumers, according to an October 26, 2022 Reuters.com article. The article states: "Justice Department prosecutors in Washington and San Francisco are examining whether Tesla misled consumers, investors and regulators by making unsupported claims about its driver assistance technology's capabilities."
Depending on the outcome of the federal investigations into the company, Tesla could face greater liability for injury victims' damages, if it is determined that the company misled consumers, contributing to a dangerous confidence and over-reliance on the Autopilot and Self-Driving features by the public.
Who Is Liable for a Collision Involving a Self-Driving Car?
As self-driving technology continues to evolve, the sad truth remains that many more people will likely be injured or killed in traffic collisions due to malfunctions or misuse of various driver-assistance technologies. Given this sobering reality, the question remains: who is liable when driver-assistance technologies fail? Is the auto manufacturer considered the at-fault party, or can a "driver" of a self-driving automobile be sued and held responsible for an injury victim's damages? 
When it comes to determining who is responsible for an accident involving driver assistance technologies failures, the answer is: it depends. In pure comparative fault states such as California and Washington, more than one party can share liability for an accident. This legal principle of "comparative negligence" means that an injured plaintiff can still recover damages, even if they share partial responsibility for causing the accident. In comparative negligence cases, a plaintiff's total reward of damages is reduced by the percentage they are found liable for the collision. Whether there is one at-fault party, or several, the potentially liable parties in an automobile accident involving autopilot and other driver-assistance technologies include:
The vehicle manufacturer - Under product liability laws, the manufacturer of a vehicle outfitted with driver assistance technologies that contribute to causing an accident can be held liable for the victim's damages, including property damage, medical bills, lost wages, as well as pain and suffering.

Parts manufacturer - If a parts manufacturer or supplier furnished a defective automobile component to the automobile maker, they can be held liable for a resulting accident, as they participated in delivering a defective product into the hands of consumers.

Self-driving vehicle "driver" - A driver of a vehicle using the autopilot or self-driving functions may still be held liable for an accident if they were not following the manufacturer-recommended protocol for using these features, such as touching the steering wheel at regular intervals or keeping their eyes on the road, as well as if they were engaged in risky driving behaviors such as texting while driving or driving under the influence of alcohol or drugs.

Other drivers - in states with pure comparative fault laws, such as California and Washington state, more than one party can share liability for causing a motor vehicle accident. If another driver involved in the accident was not primarily at fault, but was found to have been speeding at the time of the accident or engaged in other risky driving behaviors, a court may find that they shared some measure of responsibility for causing the accident.
Don't Use Autopilot in Your Case: CZ Law Can Fight For You!
The experienced car accident and product liability attorneys at CZ Law fight tirelessly to ensure that our injured clients receive the justice they deserve, including full compensation for their damages. Our lawyers are not afraid to confront powerful corporations, holding them accountable for their technological failures that injure innocent consumers. In fact, CZ Law Partner John P. Kristensen was responsible for securing an NHTSA record-fine of over $16 million against Toyota Motor Company in 2010, after exposing that the corporation lied to the U.S. government regarding recalls it issued in Japan, but failed to concurrently issue in the United States.
CZ Law has been fighting on behalf of car accident victims for the past 27 years. We take great pride in delivering results to our clients, and have won more than $2 billion in verdicts and settlements since the firm was established in 1995. With offices throughout California and Washington, including Beverly Hills, Los Angeles, Garden Grove, San Diego, Bakersfield, and Seattle, CZ Law is ready to fight for you!
If you were involved in an accident, and you believe that driver assistance technologies may have been the cause, contact the skilled personal injury attorneys at Carpenter & Zuckerman. CZ Law is standing by and is ready to fight on your behalf. Call CZ Law  today at (310) 273-1230, or fill out our for a FREE consultation.
Ready to Discuss Your Case?
Schedule a Free Consultation with Our Team.
We're available 24/7 to assist you with your personal injury matter.
Remember, you don't pay any fees unless we successfully resolve your case!