9-22-2023
CZ Law Partner John P. Kristensen Wins 4 Major Jury Verdicts in 25 Months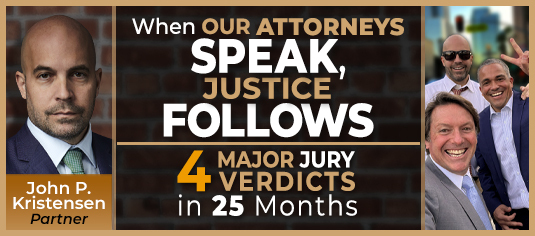 In the City of Angels, personal injury law firms are a dime a dozen. While driving along any stretch of the city's traffic-congested freeways, drivers are sure to encounter several billboards advertising various personal injury firms, each jockeying for attention using tactics such as piggybacking their name on the reputation of a famous sports team. 
For nearly thirty years, the law firm of Carpenter & Zuckerman has refrained from traditional marketing gimmicks and has experienced exponential growth based on organic advertising and word-of-mouth recommendations from our satisfied clients. This intentionally minimalistic marketing approach is effective because our lawyers possess what many don't: true courtroom experience combined with an authentic desire to improve our clients' lives.
Our trial lawyers have countless hours in the courtroom, fighting unwaveringly to reveal the truth and obtain justice for our deserving clients. Whether inside a court of law or behind closed doors, CZ Law's personal injury lawyers are highly skilled at handling all aspects of litigation, from pretrial litigation to high-level settlement negotiations and courtroom trials. We're not afraid to go to court when necessary. CZ Law has a formidable reputation for delivering justice to our clients, both inside and outside the courtroom. Insurance companies and our competitors know this: when our attorneys speak, justice follows!
CZ Law Partner John P. Kristensen is no stranger to the courtroom. With nine years of running his own plaintiffs' law firm prior to joining CZ Law, Mr. Kristensen is an experienced litigator with a history of record achievements. He was responsible for obtaining a record National Highway Traffic Safety Administration (NHTSA) fine against Toyota when he exposed the corporation's lies to the United States government in connection with recalls it issued in Japan but failed to issue concurrently in America.
In the last twenty-five months, Mr. Kristensen won FOUR significant jury verdicts in favor of his clients. These cases included state and federal court lawsuits across a range of practice areas, including wrongful termination, business torts, assault, and wage discrimination.

Lee v. Rockstar Staffing, LLC
Jury Verdict: $175K, Plus Attorneys' Fees
Wrongful Termination
Los Angeles County Superior Court
August 2023

In his most recent victory, Mr. Kristensen, along with CZ Law Trial Lawyer Justice Turner, achieved a $175K jury trial verdict, plus attorneys' fees, in a wrongful termination lawsuit against Rockstar Staffing, LLC. CZ Law's client, Danielle Lee, suffered from sickle cell anemia and was hospitalized for less than a week with symptoms. Upon Ms. Lee's release from the hospital, Rockstar Staffing, LLC abruptly terminated the plaintiff from her position as a hostess at the Malibu Beach Inn. Ms. Lee was just six weeks away from obtaining health insurance. Rockstar Staffing, LLC later egregiously attempted to deny that she was ever their employee. That's when Ms. Lee turned to CZ Law for help.
Mr. Kristensen and Mr. Turner successfully obtained a jury verdict in Ms. Lee's favor during a weeklong Los Angeles County Superior Court trial. Through this overwhelming victory, John and Justice exemplified CZ Law's fierce dedication to supporting the rights of injured and exploited individuals against greedy corporations.
Done! Ventures, LLC v. Jerry Jamgotchian
Jury Verdict: $5.5M+
Business Torts
Los Angeles County Superior Court
February 2023
Carpenter & Zuckerman Founding Partner John. C. Carpenter and Partner John P. Kristensen achieved a resounding victory for their client, Plaintiff, Done! Ventures, LLC and its owner, Ben Padnos, in a jury trial against Jerry Jamgotchian et al. in Los Angeles County Superior Court.
The jury delivered a $5,532,151 verdict in favor of CZ Law's client in this complex business tort lawsuit against a landlord who abused his power and unlawfully interfered with the sale of his tenant's laundromat business to our client.
Mr. Padnos had an agreement to purchase the laundromat, Coast Laundry, in El Segundo Plaza from Coastal Laundromat, Inc. in January 2017 for $2.8 million. The lease agreement and California law require that a landlord cannot unreasonably withhold approval of an assignment of a commercial lease.
When Coastal Laundromat, Inc. sought consent for the assignment of the lease to Mr. Padnos, Jerry Jamgotchian (the principal of El Segundo Plaza Associates, L.P. and Theta Holding IV, Inc.), unreasonably refused to consent to the assignment. Instead, the landlord threatened to develop and open a competing laundromat next door and abused his power as the landlord to force the sale of the laundromat to himself at a $700,000 discount. Sixty-five days after forcing the sale of the business to himself, the landlord tried to sell the same laundromat to our client for $4.5 million after previously taking the position that our client was unqualified to purchase the laundromat business for $2.8 million. Jamgotchian, owner of numerous racehorses, bet against Carpenter & Zuckerman to his own peril.
Attorneys John C. Carpenter and John P. Kristensen steadfastly fought to deliver justice to Plaintiff Done! Ventures, LLC, and its owner, Ben Padnos. With this jury trial win, CZ Law once again upheld the principle that the wealthy and powerful do not have free license to exploit others. 
Amanda Langley & Andrea Harris v. RPM Dining, LLC., dba Yellow Rose
Jury Verdict: $400K
Failure to Pay Minimum Wage
U.S. District Court, Western District of Texas - Austin Division
July 2022
In this federal case involving an employer's failure to pay minimum wage, Mr. Kristensen successfully argued that Plaintiffs Amanda Langley and Andrea Harris were due minimum wage for the hours they worked for their employer, RPM Dining, LLC., dba Yellow Rose, despite the defendant's claims that the women were not employees.
The Fair Labor Standards Act (FLSA), initially enacted in 1938, established minimum wage, created overtime pay, set recordkeeping standards, and regulated youth employment for federal, state, and local government employees and those in the private sector. Under the FLSA, Mr. Kristensen established that:
The plaintiffs were employees of RPM Dining, LLC., dba Yellow Rose.

Yellow Rose forced the plaintiffs to pay kickbacks through house fees to work.

Yellow Rose forced the plaintiffs to subsidize other employees through mandatory tips.

The plaintiffs were due minimum wage for their hours worked, totaling a minimum of $3,190 each. 
During this three-day trial in July 2022, Mr. Kristensen successfully argued his clients' case, winning a jury verdict of $400K in their favor. Whether in state or federal court, Mr. Kristensen and his colleagues at CZ Law will always vehemently defend the rights of everyday people to be paid a fair wage for their labor.
Findel v. Driz
Jury Verdict: $8.9M
Assault
Los Angeles County Superior Court
July 2021
Mr. Kristensen won an $8.9M verdict in Los Angeles County Superior Court for his client, Mr. Findel, a man severely beaten outside a Los Angeles restaurant in 2015.
Mr. Findel was the patron of a restaurant on La Cienega Ave. and was on the patio when he heard a commotion in front of the establishment. While attempting to come to the aid of a photographer involved in an altercation with a group of men, Mr. Findel was severely battered. During the incident, the plaintiff suffered strikes to his head that resulted in hearing loss, permanent nerve damage, and other serious injuries.
As an established personal injury law firm, CZ Law vehemently stands up for the rights of victims injured by another party, whether through unintentional negligence or willful aggression. Mr Kristensen and the firm's fiercely dedicated attorneys and staff will not sit down in the face of injustice. We will stand alongside our clients and demand justice, just as we have done for nearly three decades.
When Our Attorneys Speak, Justice Follows!
At Carpenter & Zuckerman, our experienced trial lawyers have been fighting on behalf of injury victims since 1995. John Carpenter and Paul Zuckerman founded CZ Law on the belief that injury victims deserve justice – far more than greedy insurance companies and wealthy corporations deserve to line their pockets with profits. Combining an expertly-honed legal skillset with a laser-focused determination to fight compassionately for the injured, CZ Law has obtained well over $2 billion in verdicts and settlements for its deserving clients. 
CZ Law is versed in litigating a range of lawsuits in both state and federal court, from traditional personal injury law to civil rights and employment law. The Los Angeles Times featured CZ Law Partner John P. Kristensen for his success in securing a record-breaking $16,000,000 NHTSA fine against Toyota Motor Corporation in connection with its steering relay rod recall scandal.
Based in Los Angeles, the law firm of Carpenter & Zuckerman maintains offices in Beverly Hills, Los Angeles, Orange County, Bakersfield, San Diego, and Seattle. We proudly serve clients throughout California and Washington with all of their personal injury law needs. 
If you have been injured due to someone else's negligence, you don't have time to waste on an inexperienced law firm. You deserve representation from highly experienced litigators with proven courtroom experience and demonstrable results. As Mr. Kristensen's track record of 4 major jury verdict wins in 25 months proves: when our attorneys speak, justice follows!
Don't wait — call CZ Law today at (310) 273-1230 or fill out our contact form for a FREE consultation
Ready to Discuss Your Case?
Schedule a Free Consultation with Our Team.
We're available 24/7 to assist you with your personal injury matter.
Remember, you don't pay any fees unless we successfully resolve your case!